HONOLULU (HawaiiNewsNow) - Take a look back at some of the big headlines in Hawaii on this week in history.
Air Force Maj. Gordon Cooper orbits the earth 22 times aboard the Mercury-Atlas 9, the last of NASA's Mercury missions. During this mission, he logs more time in space than all the previous Mercury astronauts combined and becomes the first American astronaut to sleep while in orbit.
Cooper attended the University of Hawaii while his father was assigned to Hickam on Oahu. While attending UH he met his first wife, and they married in Honolulu.
1964: Japanese Crown Prince Akihito, Princess Michiko visit
While in Hawaii, the royal couple visits the East-West Center in Honolulu and offers a blessing at the Center's Japanese garden by releasing koi into the garden's stream. Crown Prince Akihito and Princess Michiko leave after only 20 hours in the state.
Q: "If there are no other rules in your life for one day, and you could be outrageous, what would you do?"
A: "I would eat everything in the world. You do not understand. I would eat everything twice!"
With that memorable answer, Miss USA, a Kamehameha Schools graduate from Pearl City, is crowned Miss Universe. Brook Lee remains the only person from Hawaii to win the Miss Universe title, and no other Miss USA received the same crown until 15 years later.
CBS announces that it is picking up the Hawaii Five-0 series filmed a few months earlier on Oahu – a reboot of the original show that aired from 1968 to 1980. The pilot will air in September and feature scenes from across the island including Chinatown, Downtown Honolulu and inside the Post Office on Richards Street.
After years of careful planning, the famous voyaging canoe and her sister vessel, Hikianalia, leave Oahu to start their three-year long journey with stops at 85 ports in 26 countries. Crew members onboard Hokulea will use stars, ocean currents, winds and birds as mapping points for direction as they circumnavigate the world. The first stop – just down the island chain in Hilo where they will stay for a week before leaving the state.
One of three MV-22 Ospreys in a training exercise crashes near Bellows Beach on a Sunday morning. Two U.S. Marines, Matt Determan and Joshua Barron, are killed. Twenty others on board, all from Camp Pendleton, Calif., are injured.
It's now officially a two-candidate race for the senate seat being vacated by Sen. Daniel Akaka. In a two-minute message posted on her website, U.S. Rep. Mazie Hirono says she'll run in the Democratic primary election in 2012 when Sen. Akaka retires. Former congressman Ed Case was the first to announce he is running for the seat.
1972: Miss Hawaii Tanya Wilson is crowned Miss USA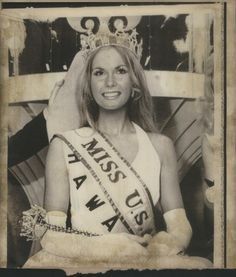 1976: Inouye named to new Senate Intelligence Committee
Hawaii's Sen. Daniel Inouye is appointed to a new committee created to monitor US Intelligence activities and is named its chairman.
Hawaii News Now receives multiple reports of mysterious lights in the sky off west Oahu, visible from as far away as Maui and Lanai. Dozens of photos sent to the newsroom show a bright zigzag light overhead. Initially, no one knows where the lights are from.
A few days later, it's determined that they were most likely caused by a launch from the Pacific Missile Range Facility at Barking Sands on Kauai.
1944: The West Loch Disaster
A mortar round explodes on USS LST 353 in Pearl Harbor's West Loch, triggering a massive fire that quickly spreads. It burns for 24 hours, killing 163 naval personnel and injuring 396. A total of six landing ships (LSTs) sink in the disaster.